'The Lost Boy' : YBN Cordae - Album Review
YBN Cordae's first studio album, The Lost Boy, wraps up in 15 songs, clocking in at 45 minutes. But even with just a brief listen to a couple of Cordae's verses, you can hear the genius behind the young star. For someone who is a literal and figurative "freshmen" to the rap game, this is an outstanding debut project. The impressive delivery and lyrical content were expected from the promising DMV spitter, but his added sense of authenticity will make you bob your head or tap your foot a little harder.
8.1/10
As if we needed any more abbreviations in Hip-Hop.. We already have collectives like A$AP, OVO, TDE, QC, and OF (for the readers craving some nostalgia on this fine Tuesday). We first heard about YBN or the Young Boss N***** crew when their leader Nick "Nahmir" Simmons dropped his debut single "Rubbin Off The Paint" to viral success. Nahmir used this spontaneous fame to move out to Los Angeles with the two other prominent members of YBN, Almighty Jay and Cordae.
YBN's first songs didn't do much for me as I felt songs like "Rubbin Off The Paint" and "Bounce Out With That" were generic and uninspired tracks that come and go as many do. I can now honestly say I may have slept on the chubby kid with the lisp.
This album is good, to say the least. This dude can really rap. The final track, Lost & Found, has bars that hit harder than a Mike Tyson hook in the second round. NOW THAT'S A PUNCHLINE. Tracks like Family Matters let us see the Cordae that hooks listeners with his ability to tell his captivating story. Production on this project isn't out of this world; but it's definitely good, even great. Even with the assistance of TAKE A DAYTRIP, J Cole, and Cardiak, listeners aren't tuning in to hear astonishing beats. We're here to listen to Cordae glide on the instrumentals with lyrical stamina and rhythmic grace. Cordae can do it all by himself, and no I'm not claiming that Cordae can self-produce. It's pretty clear though, if you have seen a freestyle by this kid, you know that he will butcher any beat bestowed upon him.
One of the most important tracks in his young career, "Old N*ggas" is a responsive remix to J. Cole's "1985."
"Old n***** unreliable like D-Rose knees // only man I can trust is G-O-D // not to mention Mos Def and Talib Kweli"
Here he crushes The Throne's "Otis," Lupe Fiasco's "Kick, Push.," and a slightly watered down remake of DaBaby's "Suge."
"I bleed terrific and piss excellence // my shit heaven-sent, flowin like a sick veteran"
I'm all here for the Ricky Bobby reference.


Cordae is seen bodying beats from Kendrick Lamar, Lil Pump, and a Method Man & Redman collab.
"Got the heart of a rebel, you see, the way it gotta be // I stack a lot of cheese, and I keep my mob deep, a rap prodigy"
Rest in Peace Prodigy.
Favorite Tracks:
Big Sean and A$AP Rocky have been doing this many years longer than YBN Cordae and Anderson Paak., but let me say…Frat Rules walked so RNP Could RUN.
Everything with this song was done the right way. The chemistry these two show is off the charts. We have the infinitely talented Mr. Jermaine "doubleplatinumwithnofeatures" Cole on production as the two trade bars about wealth. They tag team the verses while they name-drop hoop legends like LeBron, Shaq and Kobe.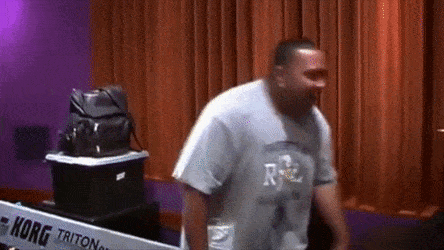 Timbaland from the Izzo (H.O.V.A) Studio Session
Jay-Z from the Izzo (H.O.V.A) Studio Session
Accurate representation of me listening to first half of Broke As Fuck






Accurate representation of me listening to the second half of Broke As Fuck








Yeah I know the whole point of this is to use words and explain to you how I felt about the song, but fugg it. Consider me speechless. This song slaps.
But in all seriousness, Daytrip really took it to ten. This song features a smooth transition connecting a well produced two part track. The beats have a very nice connection as the sections contrast from being in your face to having a laid back bounce. Broke as Fuck has Cordae delivering two excellent verses, both split up by braggadocious bars and reminiscent rhymes.
Nightmares Are Real feat Pusha T
The past and present of the DMV rap scene join forces on this soulfully dark instrumental to discuss their come-up story and ascensions to rap stardom.
While their verses start the same with, -
"I can tell you how I first started in this rap shit." Their stories are not the same.
Cordae tells us about being kicked out and having to couchsurf as he tried to make it to where he is today. King Push is synonymous with Kingpin, that lyric alone can help you figure out what the featured verse in Nightmares Are Real is about. The verse also packs in a few clever gymnastics references and a nice bar or two about his Clipse days.
Cocaine, it's about cocaine. I assumed that was pretty obvious.
Shoutout to Pharrell Williams & Chad Hugo.
King Push came to play.
Obviously I'd find a way to bring it back to Pusha T in the end.
- Howie Butler -