MARTIAN REVIEWS UNCUT GEMS, THE BEST MOVIE OF 2019
Last year was incredible for movies, as we saw the epic conclusion to a decade-long saga in Avengers: Endgame and were gifted smaller gems in Booksmart and The Lighthouse. Two of the most acclaimed directors ever, Martin Scorsese and Quentin Tarantino, released The Irishman and Once Upon a Time... in Hollywood, while Noah Baumbach tore at our heartstrings from the comfort of our homes with Marriage Story.
Benny and Josh Safdie, however, released the best movie of 2019. Coming off the heels of Good Time, a heart-pounding thrill ride following a bank robbery gone bad, much was left to be desired in regards to future projects from the gonzo-esque New York filmmakers. When promotion began for Uncut Gems, starring none other than Adam Sandler, the anticipation ramped up. It instantly became my most anticipated movie of the year. Uncut Gems was my Endgame. The Safdie Brothers, Adam Sandler in a serious role, Kevin Garnett, The Weeknd; what more could I want, or rather need?
After three viewings within a week of its Christmas Day wide release, I can joyfully confirm that Uncut Gems not only lived up to my expectations but exceeded them. No other film has drawn me in quite like Gems; the Safdies are masterful storytellers who can isolate a sense of tension and anxiety unlike anyone else. So many elements went into the 134-minute panic attack that is Gems, which I'll do my best to break down.
While I'm going to hold off on the biggest spoilers until the end, some minor ones will pop up throughout this out of necessity. If you haven't seen the movie, go see it ASAP.
BUY A BURBS SWEATSHIRT HERE!


CAST
Throughout their entire filmography, one of the strongest aspects of any Safdie production is casting. While they do use established, trained actors, they also bring on many non-actors off the streets of New York, often to play a version of themselves (i.e. jewelry pawners Adam Sandler meets with are real pawners in New York's Diamond District).
Adam Sandler, who has proven he has legitimate acting chops across multiple movies, absolutely crushes it as Howard Ratner, a Diamond District jeweler and high-stakes gambler looking for his big score. An Academy Award nomination for Sandler shouldn't be scoffed at but rather applauded. Sandler becomes Howard and throughout the course of Gems you forget that you're watching the man that made Jack and Jill. The Safdies have mentioned multiple times that the role of Howard was written for Sandler and after others signed on and dropped out over the course of a decade, it came full circle and Sandler gives a performance of a lifetime. Having never been to New York, much less the Diamond District, Sandler embodies what I can only imagine to be the overt griminess and constant swindling of the area. For a man putting quite literally everything on the line any chance he can get, in turn endangering not only himself but his family, part of you roots for Howard.
The most surprising performance, and most pivotal character in the film aside from Howard, is Kevin Garnett as himself. After Amar'e Stoudemire, Kobe Bryant, and Joel Embiid were attached to star at some point in pre-production, Garnett joined the films a few months before principal photography began. During a stop into Howard's jewelry store, Garnett is shown the Ethiopian opal that Howard believes to be worth roughly one-million dollars. Upon holding it, he forms an instant connection and believes the opal is the key to a big ticket performance in an effort to beat the Philadelphia 76ers during the 2012 Eastern Conference Semifinals. Garnett, never having acted before, gives an ultra-convincing performance and steals the show when he's on camera. His hard-nosed, shit talking personality shines in such a chaotic environment and after seeing the film so many times, there's no other NBA player, former or current, that would be able to excel quite like KG.
Another breakout star is Julia Fox in her first-ever acting role. She plays Julia, Howard's girlfriend and employee, who serves as a representation of Howard's jumbled life. One second Julia and Howard are at each other's throats and the next she's showing him a new ass tattoo that reads "Howie". Again, I've never been to New York, but she feels straight out of Manhattan. Much like everyone else, it doesn't feel as if she's acting but rather co-existing in this alternate timeline of 2012 that the Safdies created. Even her phone case is spot on for the time. Fox deserves acclaim for her role and it'll be exciting to see what future roles have in store. I would let Julia Fox run me over with a mid-size U-Haul.
LaKeith Stanfield, who also appears in another holiday hit in Knives Out, shines as Demany, a connected man who brings rappers and athletes into Howard's shop to do business. His calm swagger and demeanor lend well to Howard's constant hustling and Stanfield continues his rise to stardom in Gems. He's one of the best actors working today and nails his role.
My most anticipated appearance next to Sandler was Abel Tesfaye, commonly known as The Weeknd. While his cameo is brief, it's absolutely perfect. Not only did I get to watch storied war criminal Rob Weede's reaction as the opening to "The Morning" began playing but his scene perfectly encapsulates Trilogy-era Abel. The intimate venue, the black lights, the hair, and of course coke in the bathroom. We got to see Sandler swing on The Weeknd after Howard discovers him in a stall with Julia. The money is the motive.
Some of the strongest casting comes from Howard's extended family. Another music superstar in her own right, Idina Menzel plays Dinah Ratner, Howard's soon-to-be ex-wife. While she's not on-screen much, she serves a necessary function to display the frenzy Howard's lifestyle creates at home. Judd Hirsch portrays Gooey, Dinah's father, who ends up getting screwed by Howard during an auction for the opal. The most dangerous member of the family is Arno (Eric Bogosian), Howard's brother-in-law who he just so happens to owe $100,000 to which makes for an incredibly awkward Passover. Throughout Gems, Arno's henchmen Phil and Nico, played by street castings Keith Williams Richards and Tommy Kominik, hunt down Howard and rough him up to signal a message that he needs to pay up, quick. They even strip him down and shove him in the trunk of his car. Not the first time we get a glimpse of Sandler ass in the movie.
I can't leave out famed New York sports radio host Mike Francesca who makes his acting debut as Gary, Howard's bookie. Francesca plays a convincing bookie taking bets out of his restaurant. He even publicly swears for the first time in the movie but who doesn't, Gems is the only major release aside from The Wolf of Wall Street to have over 500 uses of the word "fuck".
WRITING & DIRECTION
Apologies, this was the highest quality picture of the trio that I could find.
According to interviews with the Safdies, there were around 150 drafts of the screenplay, co-written with Ronald Bronstein. The film is very tight despite the chaos and all that commotion lends to a realistic feel. At multiple points it feels as if a camera was placed in a jewelry store on any given day. Characters are always talking over each other and shots are often ultra-zoomed, making it sound like voices are coming from all directions.
I've seen Gems commonly described as "anxiety-inducing" and "a two-hour panic attack". The Safdies are able to capture a feeling of pure anxiety and keep mounting Howard's poor decisions to create a true sense of uneasiness as it feels like Howard is constantly in danger. Whenever he's walking down the street and the camera tracks him while a synth-heavy, almost haunting score plays in the background, an ass kicking or accosting by Arno's guys seems to always be on the brink.
Gems starts with its foot fully on the gas, opening with an Ethiopian miner being carried out of a dig site with a brutally broken leg. Two miners break off from the crowd surrounding him and run to a cave, chipping away at the ancient stone until they discover the opal that will ultimately windup in Howard's hands. After a luminary, psychedelic sequence that takes place inside the opal, Howard is introduced walking down the street, yelling into his phone and picking up envelopes of cash on the way to his shop. I should mention that Sandler deserves an Oscar based on his phone acting alone, Howard is constantly talking on his iPhone 5. Howard is shown as a hustler, albeit a bumbling one, right away and his often foolish actions start instantly. Upon entrance to his shop, Howard is greeted to a packed house with Demany and a rapper on the showroom floor with Arno's guys off to the side. Within minutes, Phil slaps Howard across the face and shit hits the fan. From there, the film doesn't give you a single second to breathe.
The film doesn't focus on one location for long, constantly switching scenes and set pieces but never leaving Howard's side. Howard's life moves quick, especially with thousands of dollars and his life on the line. Every few minutes Howard does something that makes you think along the lines of "What the hell, Howie? Isn't Julia enough?" He's a man clearly addicted to gambling and putting it all on the line and with no help on the horizon, Howard constantly digs himself deeper.
Darius Khondji's cinematography lends perfectly to the movie, as his constant close-up shots blend wonderfully with Daniel Lopatin's score to agitate viewers. It's almost always heart-pounding as the stress builds to a boiling point. It's one of, if not the most tense movies I've ever seen. It's so satisfying to watch and the score becomes so important that it could be included as a main character.
All the elements used by the entire crew blend so well with the Safdies and Bronstein's script to make a truly beautiful film from a production standpoint. Work on Gems began over 10 years ago and to see it all materialize in the way the Safdies envisioned makes it that much more satisfying. This episode of The A24 Podcast with the Safdies and Paul Thomas Anderson is awesome and gives an in-depth look into the production of the movie. There was a lot of discussion surrounding the cameras and the way they shot the movie; super interesting stuff, definitely give a listen.
THE ENDING
If you haven't watched the movie and continue reading, that's on you. (Sorry, that was aggressive.)
OK, done reading? How about that ending. Howard always had to die and did in every draft of the script, but when it actually happens it's seemingly out of nowhere. There are multiple events that could be considered foreshadowing but with Howard's life almost always in jeopardy, it appears routine.
After Howard fails to net the $1.2 million he was expecting at auction for the opal, he's able to sell it to KG for $175,000. He instantly places the cash into a bag and hands it to Julia through a window, telling her to take the bag to Mohegan Sun and put it all on a parlay bet for the Celtics/Sixers game later that night. After KG leaves, Arno and co. storm get locked into the entrance of Howard's shop while he watches the game unfold. The last half-hour is by far the most tense sequence of the movie and even though the outcome of the game has been known for years, you're still on the edge of your seat waiting to see if Howard's going to hit big and finally wipe his slate clean. And for the first time, it actually goes right. Everything on the parlay hits. Howard is seemingly free from Arno's debt.
He unlocks the door and then, boom. Phil shoots Howard point-blank in the face, instantly killing him. Arno, clearly in shock, tries to escape only to be also killed by Phil, who begins to break glass with Nico and start robbing Howard's store. Julia gets the money and drives off in limo. Dina talks her sister about how worried she is for Howard after he calls her and makes an excuse to get her out of the house, fearing for his families safety. As Phil and Nico finish their robbery, the camera zooms in on Howard's lifeless face and bullet wound, exactly like the opal at the beginning of the movie. Howard's life ends with the film. The punishment may not have fit the crime, but Howard got what was a long time coming.
FINAL THOUGHTS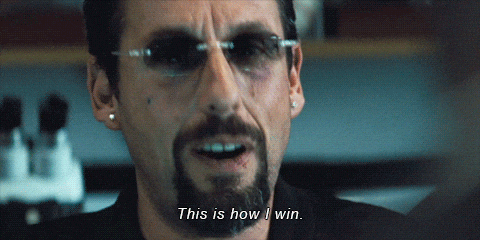 Uncut Gems is my favorite movie of 2019. While it's too early to name it my all-time pick, I can see it quickly climbing the ranks and eventually taking the throne. To me, it's incredible re-watchable and kills with suspense each time. I've loved watching interviews and listening to podcasts about what went into Gems and I couldn't be more thrilled that it was even better than I'd imagined.
It's been pretty divisive among viewers with only a 51% audience score as opposed to the 92% from critics, but it makes sense. It's not what you'd expect from Adam Sandler and it's the first time the Safdies have really been exposed to a massive audience. I'll still recommend this to anyone because I feel like it should at least be given a chance.
This movie has been my obsession for the last few weeks and now that this is published, I can finally stop being a prick and talk about it less. I just needed to get my thoughts down.